The Visionary and Neo-Mythic Art® of Cheryl Yambrach Rose-Hall
Foreword by Jean Houston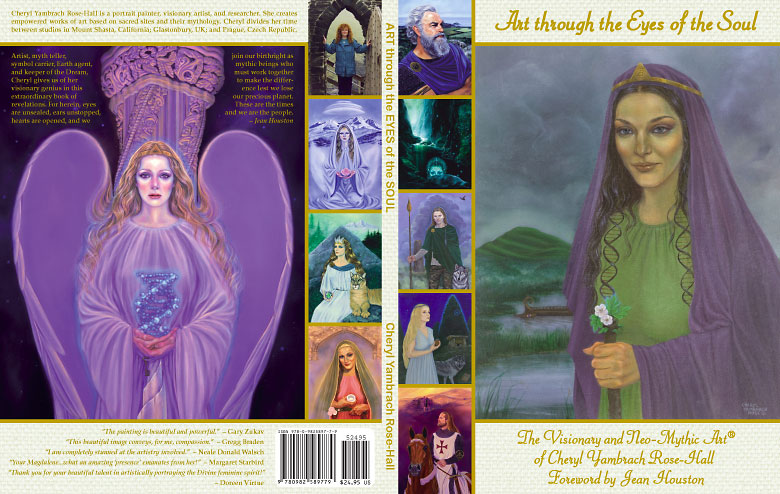 ---
NEW! Watch the Video on Art through the Eyes of the Soul
Comments from the International New Age Trade Show – Denver, June 2010:
"This is a book I DO want! The Vibration of your work is higher than ever!" — Doreen Virtue
"I LOVE this book! The Images speak for themselves." — James Twyman
From the back cover…
"Artist, myth teller, symbol carrier, Earth agent, and keeper of the Dream, Cheryl gives us of her visionary genius in this extraordinary book of revelations. For herein, eyes are unsealed, ears unstopped, hearts are opened, and we join our birthright as mythic beings who must work together to make the difference lest we lose our precious planet. These are the times and we are the people." — Jean Houston
"The painting is beautiful and powerful." — Gary Zukav
"This beautiful image conveys, for me, compassion." — Gregg Braden
"I am completely stunned at the artistry involved." — Neale Donald Walsch
"Your Magdalene…what an amazing 'presence' emanates from her!" — Margaret Starbird
"Thank you for your beautiful talent in artistically portraying the Divine feminine spirit!" — Doreen Virtue
Cheryl Yambrach Rose-Hall is a portrait painter, visionary artist, and researcher. She creates empowered works of art based on sacred sites and their mythology. Cheryl divides her time between studios in Mount Shasta, California; Glastonbury, UK; and Prague, Czech Republic.